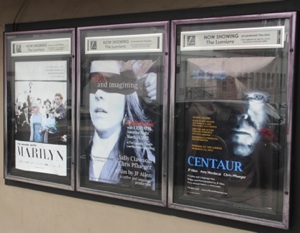 I recently had the opportunity to be a reader opposite actresses auditioning for JP Allen's upcoming feature film.
First takeaway? Show up for the audition…
I really loved being on this side of the audition process, seeing what choices each actress brought to the table and seeing how she adjusted to the director's feedback.
Ha…I also loved seeing some of my favorite theater actresses do their thang in the audition realm…
My VERY favorite moments, though, were before and in between auditions when I got to work with my fellow reader, Charlie Dudley, and our casting director, Sally Clawson. We all ran the scenes multiple times, reacting to JP and Sally's feedback.
I loved seeing actor adjustments and appreciated that everyone brought their A-game to the table. I don't know if we gave JP what he was looking for, but there was a heckuva a lot of hilarity.
Second takeaway: be nimble.
Third takeaway: trust your imagination and its big, bold choices.